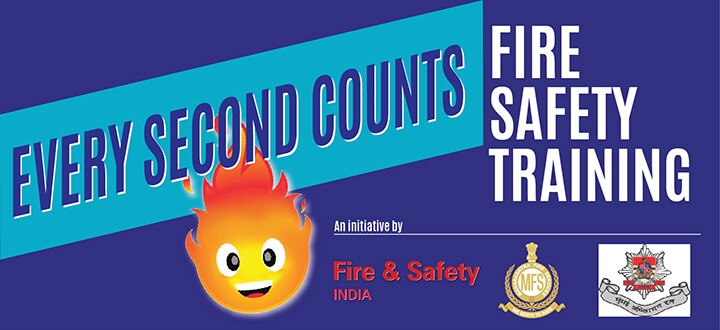 Fire Safety Volunteer Training
The Fire Marshal training will help employees and corporate professionals learn about preventing fires; the different types of fire-fighting equipment and how to use them correctly during unforeseen fire incidents at your office premises.
WHAT YOU WILL LEARN
---
The training will present an understanding of fire regulations and general fire precautions. It aims to provide you with the knowledge to be become an efficient FIRST RESPOSNDER to emergency situations like fire.
WHO SHOULD ATTEND
---
The training is ideally suitable for:
• Anyone (from different corporate functions) who wants to know about fire safety, usage of fire extinguisher and evacuation practices
• Those who are responsible for overseeing fire safety in office premises


The Maharashtra Fire Services and Mumbai Fire Brigade urge all corporate organizations to nominate their Fire Safety Team & a group of volunteers from their company to participate in this Fire Marshal Training conducted at the FIRE & SAFETY INDIA 2019 exhibition.
TRAINING MODULE DETAILS:
---
• The Fundamentals of Fire
• Common causes of Fire
• Fire Safety Precautions
• Action on Discovering a Dire
• Fire Drills and Evacuation
• The Role of Fire Marshal
• Using Fire Extinguishers – Fire Hoses etc.
• Fire Safety Legislation


HERE'S AN OPPORTUNITY TO LEARN ABOUT FIRE SAFETY PRACTICES THAT ARE NECESSARY FOR ALL EMPLOYEES
REGISTRATION
---
Once you click on 'Register Now', you will be directed to make a payment of INR 1180/- inclusive of all taxes (one-time nomination fee).
At the preliminary briefing session at the venue you will be entitled to receive a 'Welcome Kit', 'Event Cap', 'Fire Safety Info leaflets', 'Training Materials' 'Introduction Training at the venue' and a '1 day Refresher Training each month'.
You will also receive a certificate after the completion of the training schedule.
Pre-register here
On-site registration along with Preliminary Briefing Session at Fire & Safety India 2019 exhibition of 25-26-27 April 2019
PRELIMINARY BRIEFING SESSION
---
• At the Fire & Safety India 2019 exhibition | Bombay Exhibition Centre, Goregaon (E), Mumbai
• 25th, 26th and 27th April 2019
• Registered participants will get a 'Welcome Kit'
• Exclusive interaction sessions with serving firefighters and subject matter experts
• Fire Safety Drill and On-site training


The volunteers will also receive an accredited certificate as Fire Marshal upon successful completion of the training program from Maharashtra Fire Services and Fire & Safety India.
An initiative by Maharashtra Fire Services and Fire & Safety India